Dental Implants Eugene
A Natural Smile That Lasts for Decades!
For those missing teeth, a smile may be a rare occurrence. If you're embarrassed about an incomplete smile, our dentist can help. Dental implants can restore your full, healthy smile by replacing missing teeth with permanent, natural-looking prosthetics that blend seamlessly with your remaining teeth.
Benefits of Dental Implants
Dental implants are so much more than basic replacement options like dentures or bridges. Dental implants are unique because they work to improve your jaw's biting force to its fullest, allowing you to eat all the same foods you used to love! You can't have that same confidence from other options because they're only designed to replace the visible crown on top.
Furthermore, dental implant placement has a very high success rate for viable candidates. In fact, the average rate floats around 95 and 98 percent, even over a 10-year period! As long as you avoid tobacco products and keep up with your at-home oral care routine, there's no reason any problems should appear.
Learn How Dental Implants Work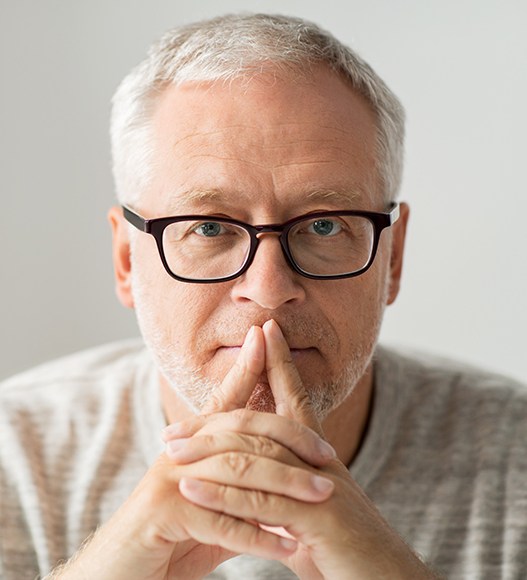 A dental implant is a durable prosthetic that looks, feels, and functions as a natural tooth. This is accomplished by surgically implanting a titanium anchor into the jaw bone and then capping the post with a porcelain crown, color-matched to your existing teeth. If you're interested in finding out whether a dental implant is right for you, Dr. Sutter will be happy to assess your bone structure and oral health to determine whether you are a suitable candidate for the procedure.
In dental implantation, your bone tissue actually fuses to the titanium anchor, imitating nature and establishing a firm, durable foundation for the prosthetic. Because this system mimics the structure of a natural tooth, dental implants often last a lifetime, and no one ever has to know your smile was once incomplete.
For those missing several teeth, we often use dental implants to anchor bridges and dentures. By doing this, we are able to secure the appliance and give patients confidence in the stability of their restorations. Furthermore, we don't need to buff down adjacent teeth just to make room for restorations in the process, like you would for dental bridges.
Indications for Dental Implants
Dental implants are ideal for a wide variety of cases, including individuals with significant tooth loss. Those missing a single tooth, multiple teeth, or an entire arch can restore their smile seamlessly!
Missing Single Tooth
Replacing a single tooth requires one surgically-placed implant and one porcelain crown that goes on top. The restoration is placed once the tissue surrounding the implant has fully healed and an abutment is added, which connects the crown and implant together.
Missing Multiple Teeth
Those missing consecutive teeth can use a dental bridge designed to connect to dental implants. Instead of filing down healthy teeth to make room for a bridge, implant-retained bridges are attached to two dental implants on either side of the gap. This option is ideal for replacing three or four teeth at a time.
Missing All Teeth
No longer do you need to rely on suction or adhesive to keep a denture in place. Implant-retained dentures are designed to snap onto four strategically placed dental implants throughout your mouth. In most cases, this option can increase your biting force up to 70 percent!
Understanding the Cost of Dental Implants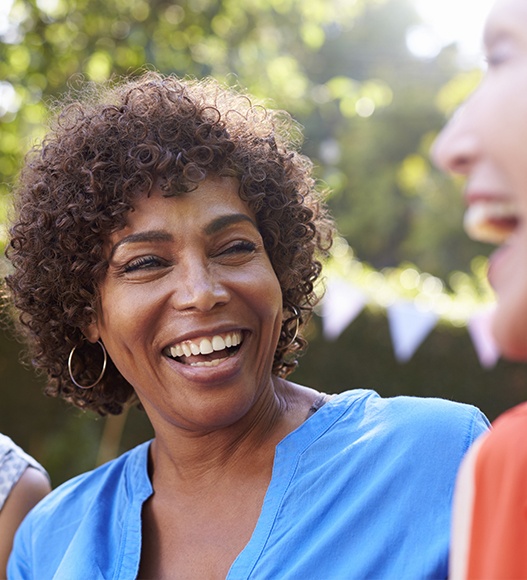 Dental implants have no exact price because it's determined on a case-by-case basis. The price is largely based on your unique treatment plan, which involves many steps in order to complete. These cost factors include:
The number and type of implants placed
The abutments and restorations used
Preparatory procedures necessary to make implants viable
Insurance coverage
While the cost of implants upfront is generally higher than other options, it's still labeled as the most cost-effective solution because of their durability and function. Consider it a long-term investment for your oral health and quality of life. Either way, your dentist will make sure that you get the option that works best for you.
To start rebuilding your smile from the root to the crown, schedule a consultation by contacting your dentist in Eugene today!