Dental Implants Eugene
A Natural Smile That Lasts for Decades!
For those missing teeth, a smile may be a rare occurrence. If you're embarrassed about an incomplete smile, our dentist can help. Dental implants can restore your full, healthy smile by replacing missing teeth with permanent, natural-looking prosthetics that blend seamlessly with your remaining teeth.
Benefits of Dental Implants
Dental implants are so much more than basic replacement options like dentures or bridges. Dental implants are unique because they work to improve your jaw's biting force to its fullest, allowing you to eat all the same foods you used to love! You can't have that same confidence from other options because they're only designed to replace the visible crown on top.
The 4 Step Dental Implant Process
Furthermore, dental implant placement has a very high success rate for viable candidates. In fact, the average rate floats around 95 and 98 percent, even over a 10-year period! As long as you avoid tobacco products and keep up with your at-home oral care routine, there's no reason any problems should appear.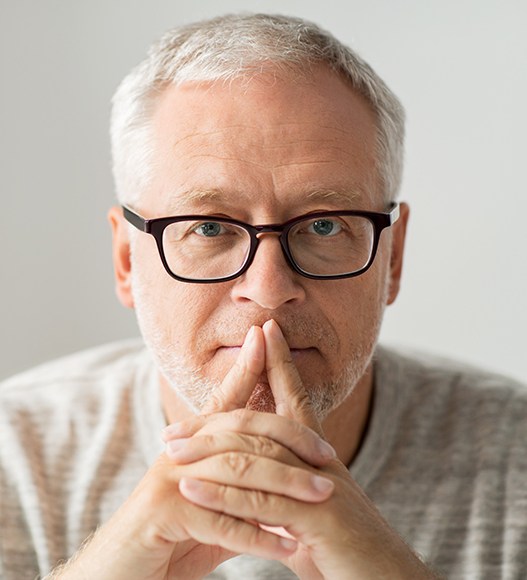 The dental implant process usually takes several months and requires multiple treatment stages. While it may seem time-consuming, the end result is well worth it! Dr. Sutter will coordinate your treatment plan and partner with local experts to help you enjoy top-level care during every stage of your journey.
Exactly how dental implants work in Eugene varies from case to case. However, there are four main steps that patients generally go through: the initial consultation, the implant placement surgery, osseointegration, and restoration.
Initial Dental Implant Consultation
During your first appointment, Dr. Sutter will thoroughly examine your teeth and review your medical history. Armed with that information, he will be able to determine if you are currently a candidate for dental implants or if you require some preliminary treatments first. Some patients must get a bone graft, tooth extractions, or other procedures before they are eligible for implants. Feel free to ask questions during your consultation — as your implant dentist in Eugene, Dr. Sutter and our team want all of our patients to make well-informed choices about their oral care.
Dental Implant Surgery
Dr. Sutter is committed to making sure you receive only the highest level of care throughout your implant journey. That is why he will refer you to a trustworthy local specialist for your dental implant placement surgery.
During the procedure, your doctor will numb your mouth and may sedate you. Then, they will create incisions in your gums and carefully insert your implants into your jawbone at precise, pre-planned positions. After that, the incisions are closed, and you can go home to begin your recovery. Most patients are able to return to work within a day or two of their surgery.
Dental Implant Osseointegration & Abutment Placement
As you heal from your surgery, osseointegration will begin. Osseointegration is the natural biological process wherein your jawbone fuses with the dental implants in Eugene, thus enabling the implants to serve as sturdy and long-lasting prosthetic tooth roots. Depending on your health and compliance with post-op instructions, osseointegration may take 3 – 4 months or longer.
After adequate osseointegration has occurred, you may undergo a second minor surgery. Your implants will be exposed, and healing caps will be placed on them. Later, you will receive abutments. Abutments are small connector pieces that will keep your restorations in place.
Delivery of Dental Implant Restorations
The last step of your journey is the design and placement of your crown, bridge, or denture. Dr. Sutter carefully plans restorations down to the last detail, ensuring that their size, shape, and color are all a perfect complement for the patient who will receive them. After a dental laboratory creates your restoration, Dr. Sutter will double-check its fit and quality before he attaches it to your implants.
Our team will coach you on how to care for your new smile before you leave our office and begin enjoying the benefits of your rebuilt teeth.
Indications for Dental Implants
Dental implants are ideal for a wide variety of cases, including individuals with significant tooth loss. Those missing a single tooth, multiple teeth, or an entire arch can restore their smile seamlessly!
Missing Single Tooth
Replacing a single tooth requires one surgically-placed implant and one porcelain crown that goes on top. The restoration is placed once the tissue surrounding the implant has fully healed and an abutment is added, which connects the crown and implant together.
Missing Multiple Teeth
Those missing consecutive teeth can use a dental bridge designed to connect to dental implants. Instead of filing down healthy teeth to make room for a bridge, implant-retained bridges are attached to two dental implants on either side of the gap. This option is ideal for replacing three or four teeth at a time.
Missing All Teeth
No longer do you need to rely on suction or adhesive to keep a denture in place. Implant-retained dentures are designed to snap onto four strategically placed dental implants throughout your mouth. In most cases, this option can increase your biting force up to 70 percent!
Understanding the Cost of Dental Implants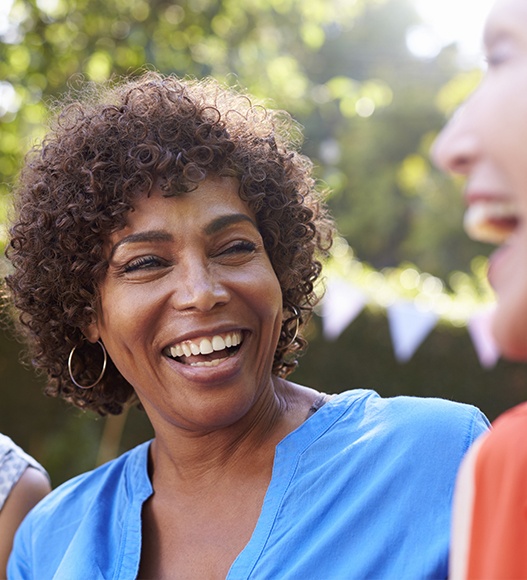 Dental implants have no exact price because it's determined on a case-by-case basis. The price is largely based on your unique treatment plan, which involves many steps in order to complete. While the upfront cost of implants is generally higher than other options, it's still labeled as the most cost-effective solution because of their durability and function. Consider it a long-term investment for your oral health and quality of life!
Preliminary Treatments & Dental Implant Surgery
Not all patients are able to receive dental implants right away; some preliminary treatment might be necessary. For example, Dr. Sutter might determine that you require tooth extractions, a bone graft, or gum disease treatment. Each of these treatments incurs its own fee. Once your mouth is ready to support dental implants, you'll undergo your placement surgery, the price of which will depend on how many implants are being placed, the type of sedation used, and other factors.
The Parts of Your Dental Implant
Not all dental implants are the same. There are a variety of types of implants and implant manufacturers. For example, most implants are made out of a titanium alloy, but other materials, such as zirconia, are becoming more popular. Naturally, the type of implant that is best for you will have an impact on the overall costs of your treatment. If more than one type of implant would work for you, you may be able to choose one after you understand the pros, cons, and financial aspects of each option.
Final Dental Implant Restoration
Whereas dental implants replace the roots of lost teeth, restorations replace the visible portion of those teeth. Logically, a single crown that replaces one tooth costs less than a bridge that replaces three, four, or more teeth. A denture that replaces an entire arch of teeth is likely to cost even more. In some cases, a patient may be able to save a bit of money by having their existing conventional denture retrofitted to work with dental implants.
Does My Dental Insurance Cover Dental Implants?
It is becoming more and more common for dental insurance to cover dental implants. However, some policies do not cover them. Our team will help you to understand how your policy applies to your treatment, and we will file all claims on your behalf. If your insurance does not cover the implants themselves, it is likely to help you out with other aspects of your care, such as your final restoration or your preliminary treatments.
Making Dental Implants Affordable
In addition to helping you figure out your insurance, we offer an additional resource that may make it possible for you to afford dental implants: financing. We are pleased to work with CareCredit, a third-party lender helps patients pay for medical and dental treatments over time — often without interest. We also accept Lending Club Patient Solutions and CitiHealth financing. If any of these options appeal to you, we can help you during the application process.
Also, keep in mind that although dental implants may cost quite a bit upfront, when you calculate their cost per day over 30 or 40 years, they may be more affordable than a daily stop at Dutch Brothers!
Dental Implant FAQs
Dental implants in Eugene may sound appealing. Indeed, if you decide to move forward with them, your smile has a bright future ahead of it! However, before you commit to the treatment, you may want to learn more about dental implants and what to expect from them. That is why we have compiled the following brief list of frequently asked questions. If you do not see the information you were hoping for, you are welcome to contact us directly.
How Does Dental Insurance Apply to Dental Implants?
Coverage for dental implants varies greatly between dental insurance policies. Some plans do not provide any coverage, while others consider dental implants to be a major treatment and may cover up to 50% of their cost, up to the amount of the plan's annual maximum. Even if your policy does not cover the implants themselves, it might cover other portions of your treatment, such as your restorations or any necessary preparatory work.
Do I Really Need Dental Implants?
How you care for your oral health is a highly personal decision. However, we strongly urge patients to consider dental implants, even if they are missing as few as one or two teeth. Rebuilding your smile as soon as possible after tooth loss can prevent future issues, keep your jawbone as whole and healthy as possible, and spare you from the inconveniences of having an incomplete set of teeth.
Is It Painful to Get Dental Implants?
You can expect to feel little to nothing during your dental implant placement surgery. After the procedure, swelling and tenderness are normal. However, the healing process is more comfortable than most people anticipate. As long as you carefully follow postoperative instructions, you can expect your recovery to go as smoothly as possible.
What Might Cause Dental Implant Failure?
As mentioned above, dental implant failure is quite rare. When it does occur, it is most often due to a condition known as peri-implantitis, wherein bacteria attack the tissue around an implant. Diligent oral hygiene can play a huge role in preventing peri-implantitis and enabling your new smile to stand the test of time. Physical trauma is another potential cause of implant failure, so it is important that you wear a mouthguard whenever you play contact sports.
Are There Any Foods I Should Avoid with Dental Implants?
Dental implants are able to stand up to virtually any food. However, you should take reasonable precautions. For example, you should avoid biting down on anything extremely hard, like ice or jawbreaker candies. It would also be wise to limit your intake of extremely sugary foods or sticky foods.