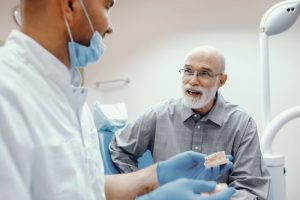 With a same-day denture in Eugene, you can get a dental prosthetic without having to go without teeth for several days on end, but also ensure that your future denture feels more comfortable than a traditional version! While there are many benefits of replacing teeth in this way, it's important that you take a few factors into account first and foremost. If you want your tooth replacement treatment to be as smooth as possible following your extractions, here's what you should do.
Call the Office Ahead of Time
While some practices may accept walk-in appointments for same-day dentures, it's important that you give them a call as close to the time they actually open as possible. Speaking with the front desk early ensures that you're one of the first people to have your needs met. When you confirm that your same-day denture appointment is scheduled, keep in mind that you're going to need to be available throughout the day so you can pick up your denture later (ideally in the afternoon.)
You should be able to get any teeth you need extracted the same day you receive your new denture. However, this timeline can vary if you are currently taking medications that influence this step of treatment. This is also a good time to confirm when they typically perform extractions. In many cases, you'll find that they are performed either in the late morning or in the early afternoon.
Prepare Your Medical and Dental Health History
If you are choosing to work with a dentist that is brand-new, it's very important that you complete a new patient form with them and answer any questions they have about your current medical and oral health history. Bring a list of any current medications you are taking. This includes regular over-the-counter medications.
Make Time for the Impression Process
If you have already had extractions completed and you're ready to complete impressions of your mouth, you should get it done in the morning so you're more likely to receive your denture before the practice closes. The sooner you get impressions completed, the sooner the dental lab can begin fabricating your prosthetic. This also gives the office a chance to make any adjustments to your denture so it can fit comfortably and reliably.
Be Ready for Afternoon Delivery
The team members at the practice you're visiting should be in close contact with you during each stage of the same-day denture process. They will let you know when the dentures are made as soon as possible so you can get to the office before it closes.
Don't want to wait for your new denture? With a little bit of planning ahead, you can walk out feeling confident about your new smile!
About the Author
Dr. Ben A. Sutter's education at the Las Vegas Institute for Advanced Dental Studies along with his official dental education proves his dedication to bringing patients the best that dentistry has to offer, including the creation of highly personalized same-day dentures that look and feel truly natural. If you'd like to receive a new denture the same day, you can contact him through his website.