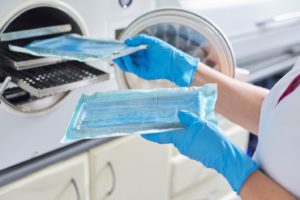 Cleanliness and sterilization have always been of paramount importance in medical settings, including dental offices. However, the COVID-19 pandemic has drawn renewed attention to the need for dental and medical professionals to ensure that they are working in a clean environment and making use of sterile instruments. But just how exactly does your local dentist's team make certain that they are using safe and clean dental equipment? In this article, we discuss some basics of how dental office sterilization.
Using an Autoclave
An autoclave is a machine that uses super-heated steam to kill bacteria and other microscopic agents that might be lingering on dental instruments after they are used on a patient. To make sure that an autoclave is able to effectively do its job, the people who use it must follow certain steps before and after they place the instruments into it. For example, they have to wear proper personal protective equipment (PPE) when they are washing any visible debris off the instruments. Then, they carefully package the items in specialized wraps that allow the heat from the steam to pass through but that will also shield the instruments from contamination after they emerge from the autoclave.
It is also vital that dentists care well for their autoclaves. These machines include test strips that monitor the machine's performance and let the owner know when repairs or maintenance are necessary.
Disposable Instruments
For some dental instruments, sterilization in an autoclave is either impractical or impossible. For these tools, your dental team may use a range of disposal items. For example, air/water syringes and suction devices have single-use tips that get replaced between patients. Needles, gloves, and a number of other tools are also used only once before they are disposed of.
Sterilizing Surfaces
Large equipment and surfaces that are frequently touched need to be thoroughly cleaned. These include items like keyboards, switches, countertops, and more. Dental teams might use various means to make sure that these surfaces remain free of contagions. For example, disposable plastic barriers can stop bacteria and other particles from accumulating in grooves that are difficult to clean. Wiping down surfaces with alcohol-based cleaning agents also aids in maintaining a safe and sanitary dental office environment.
This article has touched on just a few of the things that your dentist may be doing to promote dental patient safety on a daily basis. If you want to know more about the steps that are being taken to protect you, your dentist or their staff members would be happy to answer your questions.
About the Author
Dr. Ben A. Sutter is a highly accomplished dentist in Eugene, OR. He earned his DMD from the University of Medicine and Dentistry of New Jersey, after which he pursued continuing education at numerous prestigious institutions, including the Las Vegas Institute for Advanced Dental Studies. Dr. Sutter and his team are working hard to ensure that their patients remain safe and healthy during this time of COVID-19. To find out how they are doing so or to schedule your next appointment, contact us at 541-683-7500.