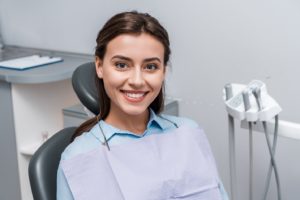 For generations, dentists typically turned to silver amalgam (a mix of metals) to fill in cavities. While amalgam is durable and long-lasting, it has proven to have some significant disadvantages. That is why many dental professionals now favor tooth-colored fillings in Eugene. In this blog post, we'll discuss some of the advantages of tooth-colored fillings and talk about whether you should get your old metal fillings replaced.
Aesthetics
Metal fillings are quite dark, and they stand out against light-colored tooth enamel. Even if they are only on the back teeth, they may still cause some embarrassment. Tooth-colored fillings, on the other hand, are made out of a composite resin that your dentist can shade-match to blend in with the surrounding dentition. Plus, unlike metal fillings, they will never stain the nearby enamel. Onlookers are very unlikely to notice them.
Health
Silver amalgam fillings are composed of about 50 percent mercury, which is a known toxic substance. Although there are varying opinions on whether amalgam is safe for use in dentistry, there is much anecdotal evidence to suggest that metal fillings can cause symptoms as mercury vapors escape from them and invade the bloodstream. The more metal fillings a person has, the more likely it is that they will experience health problems from them.
Conversely, tooth-colored fillings are completely mercury-free and are well-known for their biocompatibility (their ability to work well with the human body).
Minimal Tooth Preparation
A metal filling simply sits in a dental cavity, which means that in some cases, a dentist has to remove a portion of healthy dentition to make sure a filling can fit securely in the tooth. Tooth-colored fillings require less tooth preparation because they actually bond with the nearby tissue. Not only does this help to preserve as much dentition as possible, but it also creates a tight seal that optimizes the filling's ability to stop decay.
Should You Get Your Metal Fillings Replaced?
At this point, you may be wondering if you should get your old metal fillings replaced. The answer to that question depends on your circumstances. Replacement might be the best course of action if you are concerned about mercury toxicity or your old metal fillings are no longer functioning properly. You may also want to speak to your dentist about replacing them if you would like to improve the appearance of your smile. Your dentist will carefully evaluate the health of the teeth with metal fillings and determine whether it is safe and advisable to replace them.
Cavities are a common problem, but they don't have to wreck your smile's health or appearance. Tooth-colored fillings are a natural-looking, minimally invasive alternative to silver amalgam.
About the Author
Dr. Ben A. Sutter is a highly accomplished dentist in Eugene. He is a Fellow of the Academy of General Dentistry, the Las Vegas Institute, and the International College of Cranio Mandibular Orthopedics. He is proud to offer tooth-colored fillings and a range of other natural-looking restorative treatments. To learn more about him and the services he offers, contact our practice at 541-683-7500.