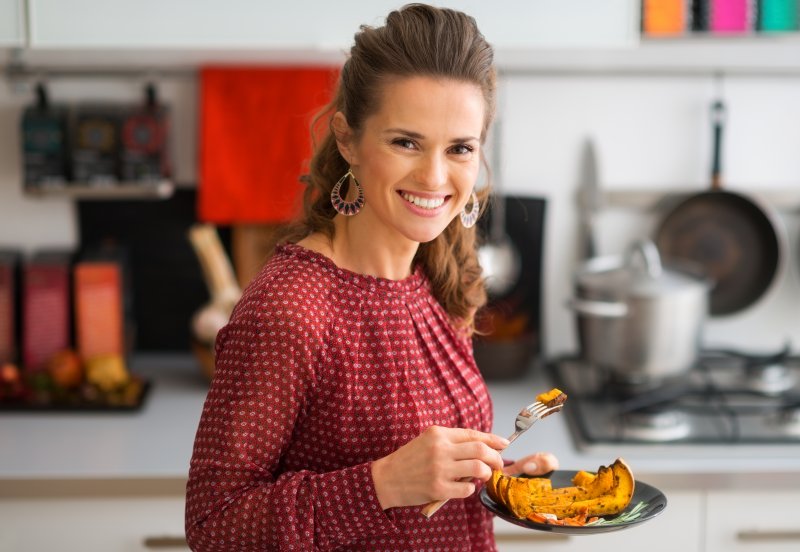 A missing tooth can be a pain during any time of the year, but the limitations become especially apparent during the holidays. You may find that you're no longer able to enjoy many of your favorite seasonal foods, and you'll likely hesitate to smile for the family picture. There are a few different ways to replace missing teeth, but if you want to get the most out of your Thanksgiving experience, dental implants can make all the difference. Here are 3 ways that getting new teeth supported by artificial roots can improve your holiday celebrations.
1. You Can Eat Whatever You Want
Thanksgiving is a prime opportunity for enjoying all kinds of holiday foods, including juicy turkey, fresh vegetables, and delicious pumpkin pie. But without a full set of teeth, you'll likely have trouble chewing certain foods. Dentures help you enjoy some more variety in your diet, but unfortunately, they carry the risk of slipping at the wrong moment, making eating a more difficult task than it should be. Out of all forms of tooth replacement, dental implants are the best option for letting you enjoy your favorite meals again without anxiety or physical discomfort. Your new teeth will stay in place at all times, giving them to stability to handle even tougher foods; they'll also have nearly the same bite power as your original teeth. In short, you can enjoy your usual Thanksgiving meal without hesitation.
2. You'll Protect Your Oral Health
Missing teeth can lead to a variety of health problems that can make the holidays less than jolly. When there's a gap in your smile, your other teeth will drift out of place and cause a variety of bite problems, and your jawbone will start to break down due to losing stimulation. Getting dental implants will help you avoid these problems, meaning you won't have any health difficulties hanging over your head while you chow down.
3. You'll Have a Smile You Can Be Proud Of
When you see your friends and family again, you'll want to greet them with a bright, beautiful smile. Unfortunately, it can be hard to do that when there's a gap in your grin that you don't want anyone else to see. Dental implants are topped with gorgeous lifelike restorations that leave you with a beautiful, natural-looking smile. You can feel confident and proud in your grin while having your photo taken or even just while talking to your loved ones.
Dental implants make the holidays – and the entire rest of the year – a much more enjoyable experience. If you're interested in the difference they can make, get in touch with your dentist to learn more about the process of having them placed and restored.
About the Author
Dr. Ben A. Sutter earned his DMD from the University of Medicine and Dentistry of New Jersey, and he has continued his education by undergoing advanced courses at the Las Vegas Institute for Advanced Dental Studies. He is an expert in restoring smiles and determine whether or not dental implants are a viable option for you. To schedule a holiday consultation at his Eugene practice, visit his website or call (541) 683-7500.