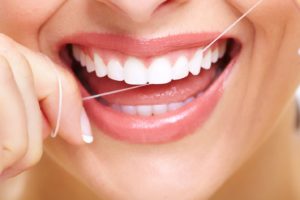 Things like weight loss and improving mental health are some of the most popular New Year's resolutions for 2022. Those are certainly worthy endeavors. Unfortunately, when most people are considering what they want to accomplish in the new year, they don't pause to think about their oral health. Most people need to floss more often in order to truly take good care of their teeth and gums. Let's talk about why flossing is so important and how you can incorporate it into your daily routine.
The Importance of Flossing
When you brush your teeth, you only clean about 60% of their surfaces. Your toothbrush cannot thoroughly clean the sides of your teeth that face one another. Plaque and bacteria can easily accumulate in those spaces, increasing your risk of gum disease, cavities, and bad breath. That is true of everyone, but such issues are especially prominent among those with crowded, crooked, or overlapping teeth.
Fortunately, flossing is a simple and easy way to clean the sides of your teeth. When done properly, it is extremely effective at removing plaque, bacteria, and food debris from tight spaces. It can therefore prevent many oral health issues and even help you achieve a fresher, more beautiful smile.
Become a Regular Flosser
Most people should floss once a day. Here are some tips to help you get into the habit:
Learn Proper Flossing Technique
Flossing is easier if you do it correctly. You should start with about 18 inches of floss and wind most of it around one of your middle fingers. As you move from tooth to tooth, you'll roll the dirty floss onto your other middle finger. Never snap the floss into your gums — instead, gently glide it between your teeth, then move it along the sides of each tooth. If you have questions about how to floss, ask your dentist or hygienist at your next preventive care appointment. They'll be happy to coach you!
Create Reminders for Yourself
If you often forget to floss, try creating a visual reminder by placing your floss right next to your toothbrush rather than in a drawer where it can easily be forgotten. You can also turn flossing into a family effort; you and your partner and your children can all encourage each other to stick to good habits.
Consider Alternatives if Necessary
String floss is the best way to clean between teeth, but it may not be a great option for some individuals. For example, people with mobility issues, as well as those who have braces, may find it difficult or impossible to use regular floss. A water flosser, also called an oral irrigator, presents an easy way to remove most plaque and bacteria from tight spaces in the mouth.
Do you floss regularly? If not, now is the time to think about how you can make it a daily habit in 2022 and beyond.
Meet the Practice
Dr. Ben Sutter is an experienced general dentist in Eugene who is proud to provide a broad range of services for patients. He places a heavy emphasis on preventive care, and he and our team would be happy to help you learn more about how you can take excellent care of your smile at home. Contact us at 541-683-7500.