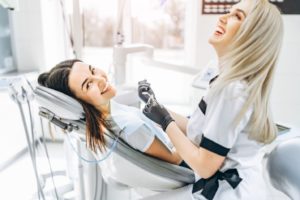 Ideally, you should visit your dentist for preventive care every six months or so. These appointments can help your smile to stay healthy, fresh, and clean. Do you have dental checkup in the near future? This blog post offers some tips to make the experience as easy and productive as possible for both you and your dentist.
Be Punctual
It's always a good idea to arrive at the dental office a few minutes before your appointment. This shows respect for your dental team's busy schedule and can help them avoid delays for other patients. Plus, if you have a bit of time in the office before you're escorted to a treatment room, you may find it easier to manage any nervousness that you may have about your appointment.
Communicate Well
Dentists have lots of talents, but they cannot read your mind. If there is anything about your oral health that concerns, be sure to bring it up, even if it is a seemingly unimportant symptom. Your dentist will be happy to look into the issue for you.
Also, be sure to keep your dentist updated on the state of your health. Things like pregnancy, diabetes, cancer, and other systemic conditions can impact your oral wellness, so your dentist should know about them.
Don't Be Ashamed
Millions of people deal with some degree of dental anxiety. If you are among them, there is no need to hide your feelings. Your dentist may make an effort to be extra-gentle with you — they want you to be comfortable! In some cases, sedation is available for even very simple procedures.
Know How You're Going to Pay
It's standard practice for dentists to collect payment at the conclusion of an appointment. Knowing how much you'll have to pay out of pocket, as well as which payment methods are accepted, will make this part of your visit as smooth as possible. If you plan to use your insurance, make sure your dental team has your up-to-date policy information.
Dress and Groom Appropriately
Most people brush and floss their teeth before a dental checkup, and that's a good thing. However, the purpose of the brushing and flossing should not be an attempt to cover up any potential dental issues. Rather, it can just make sure that fresh food particles are not lingering on your teeth during your cleaning.
Most dental offices don't have an official dress code for patients. However, most people find that they are more comfortable if they choose clothes that don't limit their head and neck movements or that might cause other inconveniences. For example, you wouldn't want to wear a sweatshirt with a large hood that would be uncomfortable to lie on.
A little preparation can go a long way toward making your dental appointments as easy as possible. Use the tips in this article to make your next visit stress-free.
Meet the Dentist
Dr. Ben Sutter is a dentist with more than 15 years of experience in his field. He loves to help people, and he is always willing to put in extra effort to help patients feel comfortable under his care. To learn more about him and how our team may be able to serve you, contact our office at 541-683-7500.