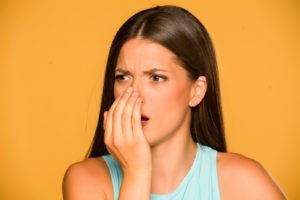 Coffee tastes wonderful, can provide a boost of energy and alertness, and even offers a few health benefits. There's nothing not to love about it. Well… except for the fact that it can cause bad breath. Indeed, coffee breath can be embarrassing whether you are chatting with coworkers in the office or trying to give a good morning kiss to your spouse. Why does coffee breath happen, and what can you do to deal with it? This blog post provides the answers.
Why Does Coffee Cause Bad Breath?
Here are a few reasons why coffee often causes bad breath:
During the roasting process, sulfur-containing compounds are formed in coffee beans. Those compounds can carry an unpleasant scent.
The tannins and caffeine in coffee can contribute to dry mouth. When you do not have enough saliva in your oral cavity, bacteria can accumulate and cause unwelcome odors.
Popular add-ins can instigate bacterial growth. Specifically, sugar and sweetened creamers can allow bacteria to thrive in your mouth. An excess of bacteria, combined with a dry mouth, is a recipe for bad breath.
Tips for Fighting Coffee Breath
Here are a few suggestions to help you prevent coffee breath or reduce its severity:
Drink water. Once you finish your coffee, sip on some water. It can rinse away bacteria, help you stay hydrated, and encourage saliva production.
Use alcohol free mouthwash. Mouthwash is an effective way to reduce bacteria in the mouth and give your breath a refreshing, minty scent.
Use other breath fresheners. Pop a piece of sugar-free gum into your mouth to encourage saliva production and freshen up your breath. Sugar-free mints can have a similarly positive effect.
Eat yogurt. There is research to indicate that the good bacteria found in yogurt can play a role in fighting odor-causing oral bacteria. As a bonus, it has lots of nutrients in it that are beneficial for oral health.
Switch out your coffee for a different morning pick-me-up. If you love coffee, do not feel like you should stop drinking it. However, other morning beverages might be easier on your breath. Black and green tea can be good choices!
What if the Bad Breath Persists?
What if, despite your efforts to battle coffee breath, you continue to you have a bad odor in your mouth? It is possible that coffee was never the problem. You might have gum disease or another oral health issue. Talk to your dentist about your concerns during your next routine checkup — or sooner if you are particularly worried about your oral wellness. They can analyze the problem, determine its cause, and give you tips on how you can enjoy fresher breath and a healthier smile.
Coffee breath can be both embarrassing and annoying. Fortunately, though, there are a few easy things you can do to freshen up your mouth.
Meet the Practice
Dr. Ben Sutter has more than 15 years of experience in his profession. He enjoys interacting with patients and helping them to achieve confident, healthy smiles. If you are concerned about bad breath or anything else that relates to the well-being of your teeth and gums, Dr. Sutter and our team are ready to serve you. Contact us at 541-683-7500.