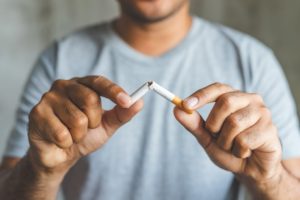 One of the biggest advantages of getting dental implants to replace missing teeth is that they have been shown to last decades longer than traditional bridges and dentures. There are countless documented cases of patients having them for 20, 25, 30, and even 35+ years without having to get an update or replacement. Whether you're still thinking about dental implants or have already received them, there are a few lifestyle changes you can make to ensure they stand the test of time.
Put Tobacco Behind You
If you use any form of tobacco, then you probably already know that it can be damaging to your health, particularly your oral health. When it comes to implants, it can slow down the healing process after surgery, interfere with the posts bonding with the jawbone, and increase the risk of infection or outright implant failure. Fortunately, you don't have to figure out quitting on your own or just go cold turkey. Talking with your implant dentist or doctor can lead you to resources and support that will make this process much more manageable.
Control Your Diabetes
Similar to tobacco use, unmanaged diabetes can prevent someone from healing properly after receiving implants, which can set them up for more serious issues in the future. Diabetes can also lead to higher concentrations of sugar in the mouth, which can feed harmful oral bacteria that fuel the development of peri-implantitis, a type of gum disease that can appear around implants and wears down the gum and bone tissue that support them. Adjustment to one's diet and medication can help with this, but of course, the primary person to talk to about this is a doctor.
Consistent Oral Hygiene
One of the biggest factors when it comes to the long-term success of dental implants is a patient's willingness to practice consistent oral hygiene, as in they brush, floss, and use mouthwash every single day. This keeps the level of harmful bacteria in the mouth low, preventing infections that can affect implants as well as dental problems that can result in even more tooth loss. Literally taking two to three minutes each day to clean the mouth can add decades to implants and potentially save a patient thousands of dollars in avoided dental procedures. To complement this, an implant patient should also attend regular checkups and cleanings with their dentist so that any potential issues can be discovered early and treated before they result in serious damage.
Like most meaningful lifestyle changes, these are relatively simple, but certainly not easy. The key thing is to talk to your dentist or doctor about them so they can set you up for success. They have helped many, many patients figure out what works for them, and they can do the same for you, too. That way, you'll be able to enjoy a strong and healthy smile today, tomorrow, and for many tomorrows to come.
About the Author
Dr. Ben Sutter received his dental doctorate from the Rutgers School of Dental Medicine, and he has proudly served patients and families in Eugene, OR for almost 20 years. His practice is pleased to offer a wide range of treatments, including tooth replacement using state-of-the-art dental implants. If you have any questions about the information above or would like to schedule a visit, you can contact Dr. Sutter through our practice's website or over the phone at (541) 484-1955.